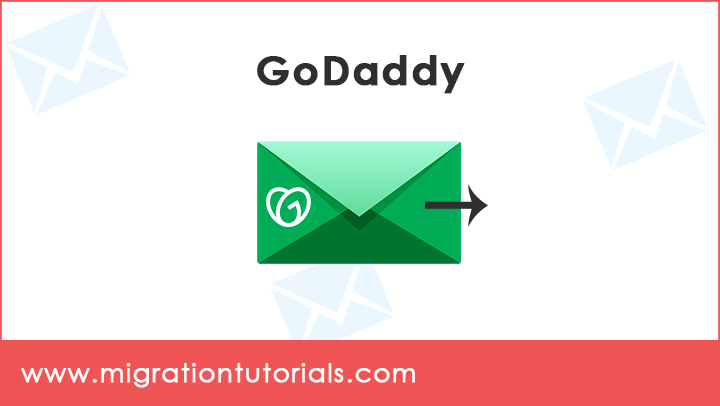 Migrating from GoDaddy email accounts is easy with our DIY email migration tutorials. In this blog, we will discuss how to migrate GoDaddy email accounts without facing hassle.
So, keep reading the blog till the end.
About GoDaddy
GoDaddy is one of the world's largest Domain Registrars company. In addition to Web Hosting, they also offer a variety of services such as: SSL certification, Website security, Email Marketing, E-commerce solutions, and Website builder.
Well we all know that GoDaddy offers many Web-Hosting services to grow businesses. It provides clients with exclusive email and productivity services. However, you may have a good reason to migrate from your GoDaddy email accounts.
Reasons to Migrate GoDaddy Email Accounts ?
One of the reasons for this is explained below through user queries:
"Hi,

My company has finally fed-up with the services of GoDaddy Webmail. We are willing to migrate GoDaddy email accounts to another one.

We are looking for a simple and cost-effective solution to accomplish this task.

Is there an easy way to do it ? All email accounts use IMAP and their messages are therefore present on GoDaddy's servers.

Any ideas ?"
Like the above query, we saw users wanting to migrate GoDaddy Office 365 email accounts or GoDaddy Exchange Server accounts.
Get Instant Solutions Here  
In our results, we found that there is no manual method available to migrate GoDaddy email accounts.
The only commercial app that can migrate multiple GoDaddy email accounts is GoDaddy Email Backup Wizard. Whether you are a GoDaddy Legacy webmail user, a GoDaddy Office 365 webmail user, or a GoDaddy Exchange Server user, the tool supports the same.
This application has the ability to migrate GoDaddy email accounts to multiple cloud or desktop-based email services. Also, you can migrate GoDaddy email account data to multiple most common file saving formats.
Free download GoDaddy Email Accounts Migrator Tool on your Windows machine and install it.

Launch the app, select GoDaddy, and simply provide your GoDaddy account credentials. The tool automatically analyses and loads your GoDaddy email account data to your screen.
Points to Consider as Precautions
Make sure your account is not running on another platform.
Verify that you have entered the correct credentials.
You will then be able to choose saving from the available options. Therefore, select the required saving and start migrating your GoDaddy email account.
What's Migrated ?
Emails and folder structure migration.
Migrate Administrator account or User Account.
Email along with all the attachments.
Choose only components you need to migrate.
Eye-Catching Functionalities
Powerful, fast, and reliable third-party app.
Cost-Effective – best tool to migrate GoDaddy email accounts at low cost!
Maitains fidelity during GoDaddy email accounts migration.
No need to download or install external application.
Easy-to-use and user-friendly third-party solution.
Contact Us for Any Help
If you still need further assistance with this, please email us. An expert will guide you.