Email Migration
How to Migrate Hosted Exchange to Office 365 within Simple Steps
Migrate Hosted Exchange to Office 365 Using Multiple Popular Methods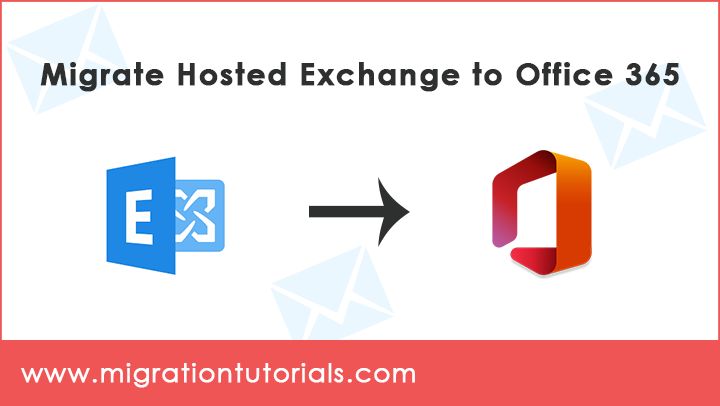 Are you using hosted exchange server and want to import in to Office 365? Migrate Hosted exchange to Office 365 is quite difficult process. That's why user mostly face difficulty in completing this process. By using Hosted exchange to Office 365 Migrator user can easily do this process. Here in this blog, we will explain you about popular methods of completing this Migrate hosted exchange to Office 365 process.
Read Also – How to Migrate Exchange 2010 to Office 365 Step by Step?
How to migrate hosted exchange to office 365- different ways
There are two different ways from which user can easily Migrate email from hosted exchange to office 365. Let's have a look on that:
Using Minimal Hybrid Configuration
By using Professional Tool
Method 1: Using Minimal Hybrid Configuration
Solution: Hybrid Migration is ideal for seamless migration and is less painful to the users. However, it has some limitations as well. Migration process takes a lot of time depending on the volume of the data.
The minimal hybrid migration excludes the following things from the configuration:
Free/ busy sharing between users
Archive mailboxes automatic retention
Redirection of ActiveSync, Outlook and OWA anywhere from the migrated users.
Steps to use Minimal Hybrid Configuration Method
1.  Verification of Domain Ownership
The first step of this process is that users has to verify the Office 365 domain which he owns. It is an important step. Following methods will help users in completing it:
Login to your Office 365 account and navigate settings & select domain option.
After that, click on add domain. Then, Domain wizard will open.
Type domain name which you use for your on- premises exchange organization.
Select TXT record for verification of ownership.
After adding TXT, wait for approx. 15 mins then jump on next step.
Now click on Verify now, at this stage select I'll manage my own DNS records. Do not continue to the next step.
2.  Start minimal migration
Go to set up and Data migration in Microsoft 365 admin center.
Select choose Exchange option under 'Select your data service'
After that click on Download application button
Welcome screen will come of Hybrid Configuration Wizard.
Enter credentials of Hosted exchange server and Click Next and the credentials will get validated.
On Hybrid Features page, select Minimal Hybrid Configuration, and click Next
On Update page, click update to prepare the mailboxes for migration.
3.  Provisioning users
While you are on User Provisioning page, enable the radio button "Synchronize my users and passwords one time (Recommended)" >> click on Next
At this point, users will be asked to synchronize their hosted Exchange with Office 365 by downloading and installing Azure AD Connect wizard.
Therefore, Download and run Azure AD Connect and then select Express setting default options.
4.  Assign the license of Office 365 to the users
Now, you need to assign Office 365 licenses to the users. So, your users will be assigned cloud mailboxes to which their on-premises mailbox data will be migrated. The status on the Data migration page should tell that a license is needed.
Go to Admin center, then Users & Active users. Now assign licenses to users.
5.  Initiate user mailbox migration
Finally, we have assigned the license of Office 365 to the users, we can start transferring mailbox by moving to data migration page.
Firstly, click on "setup" & then "data migration". Then click on "exchange".
Select the mailboxes which you want to transfer to Office 365. You can see the progress status in Data migration page.
6.  Finally update the Public DNS records
After the completion of migration of mailboxes to Office 365, change MX record in order to point to Microsoft Office 365. The purpose of this step is to collect all the new emails coming to this mailbox to Office 365.
Method 2: By using Professional Tool
There is one more method through which users can easily do this procedure without facing any hassle. By using Hosted exchange to Office 365 Migrator Tool user will be able to complete this process. It is a professional tool but still any user can use this without even knowing technical skills. Above mention method was a lengthy process. Due to which user can face difficulty in following that. User can do the migration of Hosted Exchange Server selective Mailboxes on the basis of date range. It eliminates risks to migrate Hosted Exchange Server Public Folders to the shared mailboxes.
Let's see the step- by – step working process of the utility to import hosted exchange to Office 365.
Working of the software to Migrate hosted Exchange to Office 365

Download and run the Hosted exchange to Office 365 Migrator Tool on your system.
Select Hosted Exchange server from the list of email source.
After that enter its credentials along with the server name. It will execute the data migration from Hosted Exchange to Office 365 account.
After that click on "next", then the tool will list all the folders along with the message count.
Then select Office 365 as saving option from the given list and enter its login credentials.
Now you can also select advance settings for selective backup option if you want to upload selective data.
Therefore, finally, click on backup tab to start the migration process.
Finally, see live migration process on your screen and press OK after completion.
Important characteristics of Hosted Exchange to Office 365 Migrator 
Migrate Exchange Mailbox to New Server
This tool allows users to migrate all mailbox items from an Exchange server to a new server. The software also allows users to easily import an Exchange mailbox to a new database for the new user. It can easily migrate exchange from one domain to another without requiring user to migrate Exchange mailbox data and export messages from the queue.
Export exchange hybrid / hosted public folder
The tool allows users to fully migrate local Exchange Server public folders. Allowing them to be accessed throughout the migration process. When migrating Hybrid Exchange public folders, it also allows users to export deleted Hybrid Exchange Server items. Like junk e-mail, and junk e-mail folders. Migrate Exchange Server Mailbox Folders like Inbox, Drafts, Sent Items, Deleted Items easily.
Migration of Exchange Mailboxes with Filters
This Tool allows users to selectively save Exchange mailbox items. This can be achieved by using the advanced filter settings provided by the utility. Emails can be organized using filters based on the range of data, from, to (for specific users) or the subject of the messages. So, Users can also request additional features as the software also provides this option.
Generate Exchange Server Migration Report
This software allows users to preview the whole migration process in real-time. Once Exchange Mailbox Migration process is finished, it will generate a SavingLog report. So, the best thing about this toolkit is that it allows users to change the resulting file path from the default desktop to any folder.
Final Words
Here, we have discussed about how to migrate hosted exchange to office 365 can be done using two different approaches. Users can choose Minimal Hybrid Configuration method or Office 365 Migrator software to complete the process. But the second method has a shorter and easy process. Therefore, we'll suggest users to prefer to use this tool.