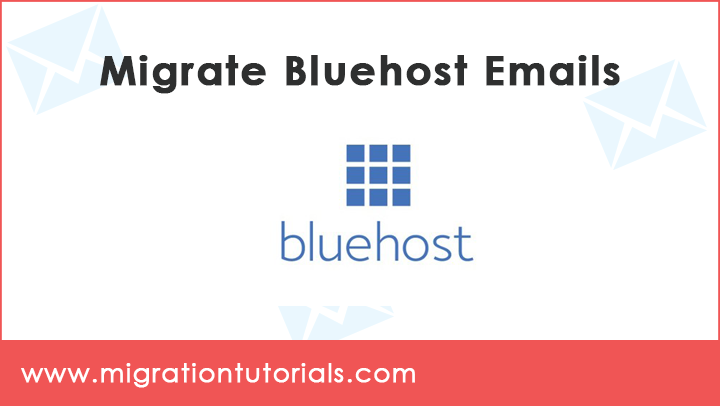 It is quite common these days that small and medium scale enterprises host their websites and mail server with similar service provider. Due to numerous reasons, users tend to decouple the domain hosting services. In this blog post, we will explain how to migrate Bluehost emails in a convenient manner without losing important data.
Why Migrate Bluehost Emails using Professional Tools ?
Though Microsoft company offers various IMAP migration approaches that can be utilized for migrating inbox and other data items. Apart from this, precisely, 500,000 data items that can be up to 35 MB can be migrated with such IMAP techniques. Such type of shortcomings can be limited using professional migration applications. Here, we have listed some of the major benefits of performing Bluehost migration with the automated solution.
Throughout the process to migrate emails from Bluehost account, the tool maintains the integrity of data. Also, it supports the batch migration of Bluehost email folders along with tasks, notes, etc which is impossible with the native techniques.
The software comes with an intuitive and easy to understand Graphical User Interface that enables users to begin and monitor the migration task.
Users can view the real-time migration of Bluehost emails in the software's interface.
It's a much flexible, faster, and productive method of migrating Bluehost mailboxes.
How to Migrate Bluehost Email Messages in Proficient Manner ?
Email Backup Tool can simplify the whole processing of migrating emails from Bluehost. The businesses who tend to need further assistance in doing email migration can take the help of this solution as the tool comes with 24*7 technical support. In order to fulfill unique business requirements, the users can take the advantage of customizing Bluehost email folders with the advance selective feature. This productive method can cater all your requirements related to migrate Bluehost emails.

In order to migrate messages from Bluehost, you need to download and install the setup of software properly on your Windows machine. Now, select the Bluehost mail service from the list of email sources from the toolkit. Along with this, enter the email account details of your Bluehost email service. Once you click on the login tab, the utility starts fetching all mailboxes from Bluehost and loads them into the software panel.
Now, you can choose any of the saving formats provided by this expert solution. The software as suggested above will justify all your general requirements. Hence, it gives a saving option in all types i.e. hard drive file formats, webmail, desktop-based email clients. By choosing the desired saving option, you are near to the end of this migration task. You just need to tap on the backup button and that's it!
The software will automatically start the process to migrate Bluehost email messages. It will provide a log report comprising the details of the entire Bluehost email migration process.
Few Major Queries of Bluehost Migration
I am handling my Website on Bluehost email service. Now, I am searching to move over to GoDaddy to manage the website. Since I am not aware of the technicalities of the email migration thus, I need professional third-party software for this. Please suggest to me a one-stop solution to migrate Bluehost email messages. I will be really thankful to you!
Edith- USA
For the past two years, I am handling all my web-based emails by Bluehost cPanel. Due to some business requirements, now I need to migrate Bluehost emails. Can you suggest software to migrate emails from Bluehost webmail? If yes, then recommend it to me as soon as possible.
Arthur- Australia
Bringing All Together
Hopefully, now you have complete information about how to migrate Bluehost emails. The whole solution of Bluehost migration is easy and productive. Any technical or non-technical user can utilize it without any hassle. Moreover, if you're thinking to test the software before purchasing it, then we suggest you take a trial of a free demo version. Thereafter, for full migration of Bluehost mailboxes, you will need to upgrade it to the licensed version. If you have any problem regarding the migration process, please contact our support team.
Recent Blog Posts:
How to Migrate Roundcube Email
How to Migrate Outlook Express Emails