Email Migration
How to Migrate Exchange 2010 to Office 365 Step by Step ?
Migrate Exchange 2010 mailbox to Office 365 step by step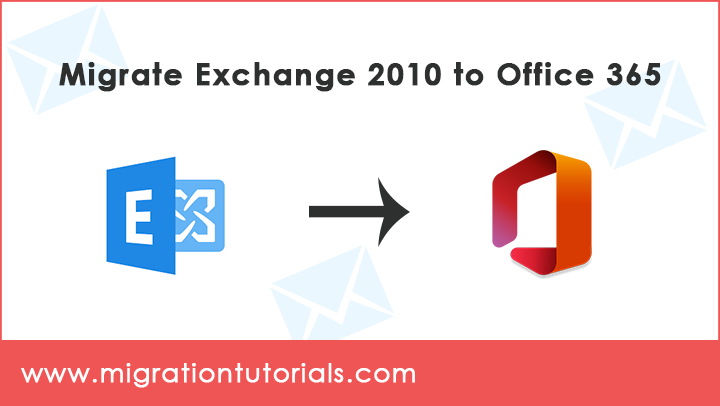 Want to migrate Exchange 2010 to Office 365 step by step? Here we will discuss about the best possible ways of migrating with the help of automated solution. By using Mailsware Email Migration Tool user can easily overcome this situation.
To begin the procedure of migrate Exchange 2010 mailbox to Office 365 step by step, it is necessary to prepare a migration plan beforehand to avoid adverse circumstances. When Exchange Server 2010 was launched, it brought new technologies, features, and services to the Exchange environment. Its main goal was to support its users and organizations to evolve their work habits from communication focus to a collaboration focus. As we all know that end of support for Exchange 2010 is coming near, so user have to migrate to new platform. Say, Exchange 2010 to Office 365. Now, let's have a look at it.
Read Also – How to Migrate Hosted Exchange to Office 365?
Reasons that encourage users to migrate to Office 365
Migrate Exchange server mailbox to New server, New database or New users
Migrate complete Exchange server Distribution Groups & Calendar items
Transfer all Exchange server mailbox folders: Inbox, Drafts, Deleted items
Hosted Exchange server migration of selective mailboxes on basis of date range.
Export Hybrid Exchange Online Archives to New Domain or Server with More Speed
Synchronize Exchange Server Mailboxes Between Migrated & Un-migrated Users
How to Migrate Exchange 2010 to Office 365 Step by Step – Complete Solution
Follow these simple procedures to migrate Exchange 2010 public folders to Office 365 step by step:

First, Install & Run Exchange 2010 to Office 365 Migration Toolkit. Then choose Exchange Server option from the Email source list.
After that, the software will ask the users to Enter Email Account Credentials. User can also enable the I am Admin option to login using Exchange Server Admin account.
Thereafter, tap on the "Login" button. The software allows the users to manually or automatically map mailbox folders of multiple users as per their requirements.
After that, the software will initialize the analysing & fetching of all the mailbox items folders from Exchange Server Webmail database in the software panel.
Thereafter, select the required mailbox folder for the migration & then select Office 365 from the Saving options list.
Then, users needed to setup Exchange to Office 365 migration options like Save Messages in default folders. I am Admin, choose Language like Dutch, French, German, Spanish, Swedish as well as Office 365 email client & Password of the resultant Office 365 account.
Thereafter, enter Office 365 account login credentials – Office 365 email address, Password. Users can also apply some filters like Date Range, From, To, or Subject of the emails.
After that, click on the Backup button to begin the Exchange Server 2010 to Office 365 migration process directly in the application panel.
Once the migration process is completed click on OK.
Finally, software will generate a saving log report with complete information.
Exchange 2010 to Office 365 Migration Tool – Major features
Migrate multiple Exchange 2010 Account to Office 365
This software allows users to migrate Exchange 2010 mailbox to Office 365 step by step. Through this feature, user can easily transfer their multiple Exchange accounts in a single go. It will save a lot of time of its users.
Zero Impact Migration Project
This utility will not interrupt the users to access their workstation, mailbox resources, emails, during the migration process. To maintain business continuity, it is important. Users will not face any disruptions in the process. Exchange Server account accessibility will work smoothly during the Hosted Exchange Migration process. The tool can migrate all Public Folders parallel to the real-time mailbox synchronization.
Migrate Exchange Server 2010 Data to New server
This software allows users to migrate all mailbox items from an Exchange server to a new server. The software also permits users to easily migrate an Exchange 2010 mailbox data to a new database for a new user. Users can easily migrate Exchange from one domain to another. Without requiring user to migrate Exchange mailbox data and export messages from the queue.
Map Exchange user's mailbox folders
This tool directed users to migrate emails in bulk from an Exchange Server administrator account in a very simple and simplified way. This software allows user to automatically map mailbox items to listed users. When migrating Exchange data, user will need to map the source mailbox entries to the target mailboxes. Either automatically or by uploading a list of users via a CSV file.
Maintains system folder hierarchy
This software always maintains the on-disk System Folder Hierarchy of Exchange Server Webmail account during upload to Office 365 account. It provides users option to save messages in the default folders option. Which will enable them to save mailbox items existed there.
Winding-up
In the above blog, we have discussed about the migrate Exchange 2010 to Office 365 step by step. We have discussed about simplest and best way to transfer Exchange 2010 public folders to Office 365 step by step. Users can also perform selective transfer of mailbox items. Just by applying Advanced filters on some properties of the emails & messages, it can be done. By using a professional tool users can easily complete this process. They can also use the demo version of the application. Through this, they will be able to know the tool in a better way.