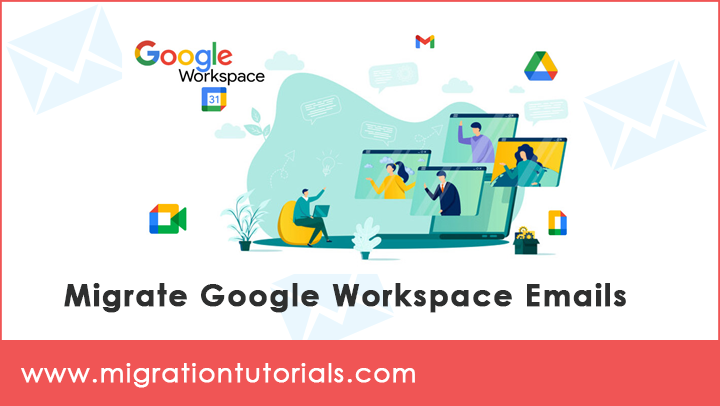 Whether you are an IT personnel or a non-tech person, in order to migrate Google Workspace emails you'll need an organized and comprehensive plan. The following guide elaborates technical and stepwise processing to migrate emails from Google Workspace.
What is Google Workspace?
Google Workspace which was formerly known as G Suite is an accumulation of cloud computing, collaborations and productivity applications. In this highly distributed and increasingly digitized world, every individual wants some productivity tools which help them to collaborate more easily. And all of these are available in Google Workspace. It comprises that you know and desires- Gmail, Calendar, Google Drive, Google Docs, Google Sheets, Meet, and much more. It is undoubtedly one of the best ways to create and communicate whether you are at home or on the frontlines with your mobile, or collaborating with clients.
For getting a highly integrated user experience, there is a strong requirement to know how to migrate Google Workspace emails.
There could be any reason to migrate Google Workspace emails. Whether to archive or save the data locally on a computer or to create a backup for unexpected data loss problems.
Let's delve into how a user can migrate emails from Google Workspace.
A Hassle-Free Solution to Migrate Google Workspace Emails
Google Workspace email migration is like running a marathon, so it's quite critical to weigh the advantages and disadvantages before you start migrating. But, one thing is sure that it's not an easy process of migration of Google Workspace data. The process of google space migration surely has its bumps.
But, don't worry we have got you covered!
One of the reputed and automated software of the G Suite Migration tool will certainly fulfill all your needs regarding how to migrate Google Workspace email messages.
It's a three-in-one solution which means that with it, a user can migrate emails from Google Workspace to the local computer, other email clients, or webmail.
Sounds interesting?
Keep reading because in the following section you will know that within some four-five simple steps one can easily migrate data from Google Workspace.
How to Migrate Emails from Google Workspace  Account ?
First of all, download and install the software on your computer machine. Next, enter the email account login details of your Google Workspace account. You can also batch migrate multiple Google Workspace accounts at once.

So, from the loaded email folders just pick all those emails which you need to migrate from Google Workspace. Then, select the desired saving option that best suits your needs and set up a target saving path for storing the output.
If your destination saving option is a cloud-based account then please enter the login credentials of that email service.
And, finally, start the process! You will see that the software will begin to migrate Google Workspace emails, tasks, folders, etc.
Benefits of Google Workspace Migration Tool
Users can bulk migrate data from Google Workspace account into multiple file formats.
The software provides numerous saving options- hard drive formats, email clients, webmail.
The tool has the proficiency to migrate Google Business emails along with all attachments.
There is also another option to migrate multiple Google Workspace email accounts at once.
You can migrate default email folders of Google Workspace like Inbox, Drafts, Sent Items, etc.
It facilitates a data filter option for selectively migrate emails from Google Workspace.
The tool permits to use of Google Workspace data anonymously with proxy settings.
It's the best tool for the migration of Google Workspace of One person, Small Business, Medium size, and Large Scale deployment.
There are various file naming options in the software for arranging the output.
It is well compatible with the latest versions of MS Windows Operating Systems.
Let's Conclude
In the above blog, we have explained the best solution to migrate Google Workspace emails. The solution is free from any errors and is highly recommended for all home as well as corporate users. If you are dealing with any query, please contact our technical support team via live chat.