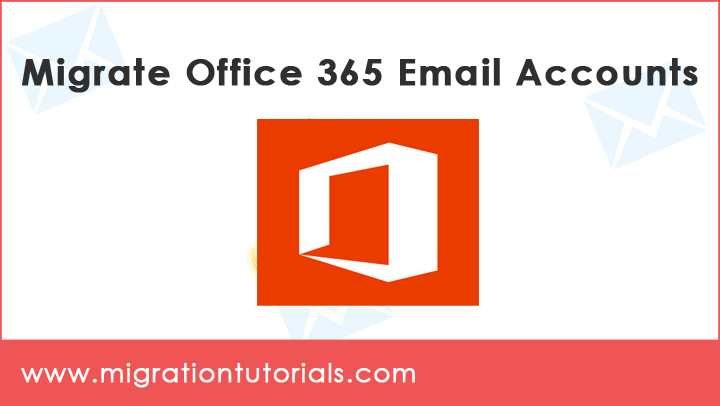 Times are gone when IT organizations and other business has to invest in long and arduous process for Office 365 email migration. With many robust solutions around us, it is fast and straightforward to migrate Office 365 email accounts.
In this Migration Tutorials guide, we assist all the users who are looking for an instant and safe method for O365 email account migration.
It is a detailed step-by-step guide useful for IT Admin, Individuals, Enterprise, and more.
How to Migrate Office 365 Email Account ? Tutorial For You
How can I migrate O365 or Microsoft 365 accounts is one of the posted questions on several forum sites. Let's take a user query for example:-
Hello everyone,

I have been looking for a solution that helps me to migrate my O365 emails with separate attachments. I read many answers, but they are technical and challenging.

No manual trick worked adequately. I tried one but didn't get attachments of my emails.

Can someone please tell me about how to migrate emails from Office 365 accounts?
It's one of the hundreds of queries for the Microsoft 365 migration. Now, let's find out the appropriate solution.
Complete & Defined Solution For Office 365 Email Accounts Migration
After testing complete and research, we have come to the point that Email Migrator is the one-stop solution to migrate Office 365 email accounts with 100% accuracy.
Full Migration 365 migration done in a real-time and safe environment. To get started, first of all, download and set up the software on your computer.

After, log in with Office 365 credentials and select the required mailbox for the migration process. It offers you multiple sources to migrate Office 365 email accounts. You can also specify a location of choice to get the output.
The third-party tool has no limitations in O365 email file size and migrating bulk emails from O365 accounts. It has more than 25 saving sources, let's get about its details.
List of File Formats and Emails Clients for Saving O365 Emails
Desktop Applications: The third-party software offers you to migrate Office 365 email accounts to Mozilla Thunderbird, Windows Live Mail, Zimbra Desktop, Lotus Notes, and many other available.
Cloud Email Applications: Using the program, you can migrate data from O365 account to Gmail, G Suite, Exchange Server, Hosted Exchange Server, Yahoo Mail, Outlook.com, IMAP, and more.
File Types: The product supports all file formats such as document – RTF, PDF, DOC, etc. It also offers EML, PST, MBOX, OLM, RGE, MSG, and more file format options.
Key Features 
Automatically migrate Office 365 email accounts without external installation.
Migrate Office 365 email files and folders without size limitation.
Successful Office 365 email account migration, including attachments and email components.
The advanced mode can filter or sort O365 emails for specific tasks (such as investigation).
The tool supports all versions of Windows OS, including the latest Windows 10.
 Get free technical support
If you need any help during the configuration process, please contact us. Free technical support for migrating Office 365 email accounts is provided 24 hours a day, seven days a week.
The Conclusion
Migrate Office 365 accounts is a big decision for any individual, enterprise or others. It is why recommended to use expert third-party software for the task. One such top-notch software is mentioned in the above guide. We hope it is worthy of your requirements.