Email Migration
How to Migrate IBM Verse Email Accounts with all Attachments, Email Attributes ?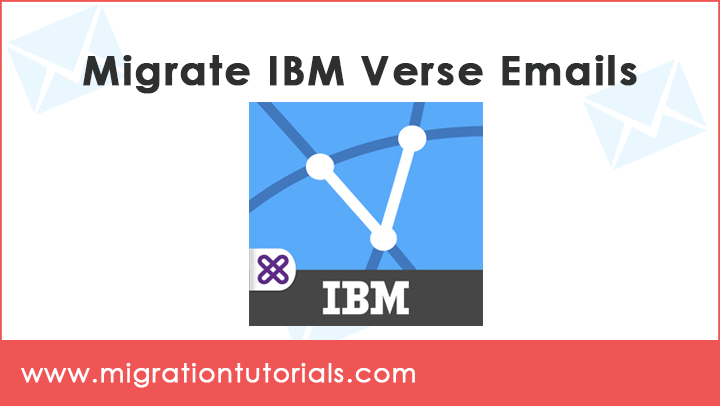 Summary:- Comprehensive guide to know how to migrate IBM Verse email accounts. The solution described in this blog post preserves all actual formatting of IBM Verse mailboxes while migrating into other cloud platforms.
About IBM Verse- IBM Verse is an interactive email hosting application that enables users to access their information from a computer or mobile. The emailing experience strengthens users to make making a robust working relationship while enhancing the business results.
Have you decided to migrate IBM Verse email accounts to safeguard your important information in some other email platform? If yes, then please continue reading this informative blog. But, before proceeding to the solution have a glance at the major reasons behind migrating emails from IBM Verse.
Suggested Blog post: How to Migrate Windstream Email Accounts
Reasons to Migrate IBM Verse Email Accounts
Most users face challenges while migrating emails from webmail. The following query was reported at a popular community forum site where an American user says:
"Hi! My company has decided to dump IBM Verse account and switch to the Outlook 365 email service. Obviously, this decision is due to the fact that Microsoft 365 diminishes the maintenance cost. Thus, for cost-effectiveness, we want to migrate IBM verse emails. Can you please help us out? (Note- We have already tried some standard solutions available on the web but, not satisfied even with one! Please suggest a reliable third-party software for this migration)."
Some major reasons for making a switch from IBM Verse could be:
Server downtime related problems.
Not happy with the cost of the email service.
While changing the workplace to another location.
Cluttered interface and inability to access IBM Verse.
Unsatisfaction with the security and basic feature set of IBM Verse.
Hence, in order to avoid such problems, you can make a quick switch from IBM Verse. How? The solution is briefly explained below.
Instant Solution to Migrate Emails from IBM Verse Account
By using the third-party software Email Backup Wizard, users can quickly migrate IBM Verse email account into a series of 20+ file formats. The tool has the ability to migrate IBM Verse messages in batch without any information leakage. With this utility, any technical or novice user can accurately migrate data from IBM Verse like emails, contacts, tasks, notes, etc.
In order to enjoy the benefits of this technology-driven third-party app, you first need to download and launch it on your Windows machine.

Now, choose IBM Verse as an email source option and set up the email login credentials. The tool will rapidly fetch all emails from IBM Verse into the software panel.
Thereafter, select any saving option as per your requirement. You can take the advantage of migrating IBM Verse mailboxes into some popular formats which are compatible with other email services.
Various saving options offered by the software are:
Computer file formats: PST, MSG, EML, EMLX, MBOX, PDF, HTML, CSV, MHT, XPS, RTF, DOC, etc.
Cloud-based email services: Gmail, Yahoo, G Suite, Outlook.com, Office 365, IMAP, Exchange Server, Hosted Exchange Server, Rediffmail, etc.
Desktop-based email clients: Thunderbird, Lotus Notes, Zimbra, Windows Live Mail, etc.
After choosing an appropriate saving option you may proceed towards the migration of IBM Verse emails by hitting on the Migrate button.
Features Attributes of Tool to Migrate IBM Verse Emails
The tool allows for the complete migration of IBM Verse emails with attachments.
It provides a provision to migrate selective IBM Verse emails of a specific time period or folders.
Users can utilize the various file naming options to manage the output more systematically.
It is endowed with a self-explanatory GUI that is beneficial for all professional and novice users.
The software maintains the on-disk folder hierarchy during the process to migrate IBM Verse emails.
It is compatible with all latest and earlier versions of MS Windows Operating Systems.
There is no need for installing any external application to run the software system.
It facilitates to batch migrate IBM Verse email accounts in single processing.
There is also the option to migrate more than one IBM Verse email accounts in one go.
Concluding Words
How to migrate IBM Verse email accounts is a massive problem for end-users. If users wish to access all IBM Verse email databases in the cloud-based platform or desktop-based email clients then, they can use the automated software. The quality proven benefits of the expert-recommended automated software will surely simplify the entire process.
Some Related Blog Posts:
How to Migrate Kerio Hosted Email Account
Zimbra from One Server to Another
How to Migrate Emails from Network Solutions