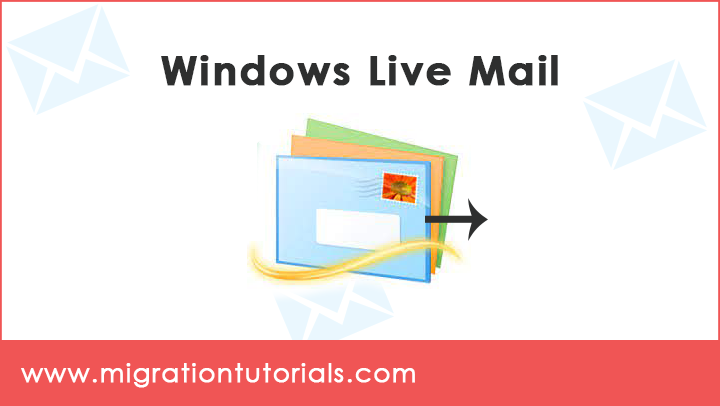 You might need to migrate Windows Live Mail Accounts for many reasons. Maybe it's time for a refresh. Or you are undergoing a big organizational change, a new department. Whatever your reason, here are some key things you can do to get ready.
About Windows Live Mail
Windows Live Mail (once named Windows Live Mail Desktop, code-named Elroy) – a discontinued desktop email program is a logical successor to Vista' Windows Mail and XP's Outlook Express. It is a part of the Windows Essentials suite, which incorporates a few fine programs: Live Mail, Live Writer, Photo Gallery, MovieMaker and OneDrive.
Subsequent to warn users in 2016 of upcoming changes, Microsoft halted official help for Windows Live Mail 2012 and other programs in the Windows Essentials 2012 suite on Jan. 10, 2017. The Live Mail program is not, at this point accessible for authentic download and its security updates have stopped, so security is an issue.
Where Does Windows Live Mail Stores Emails ?
Windows Live Mail uses the industry-standard .eml format to store individual messages. Only the folder hierarchy is kept intact in a single database file, using the EXE (Extensible Storage Engine) database structure named Mail.MSMesseStore.
If you have installed WLM (Windows Live Mail) in Vista or Windows 7, then your email messages are stored in subfolders of C:\Users\UserName\AppData\Local\Microsoft\Windows Live Mail, where UserName is, of course, the name you use to log onto Windows OS.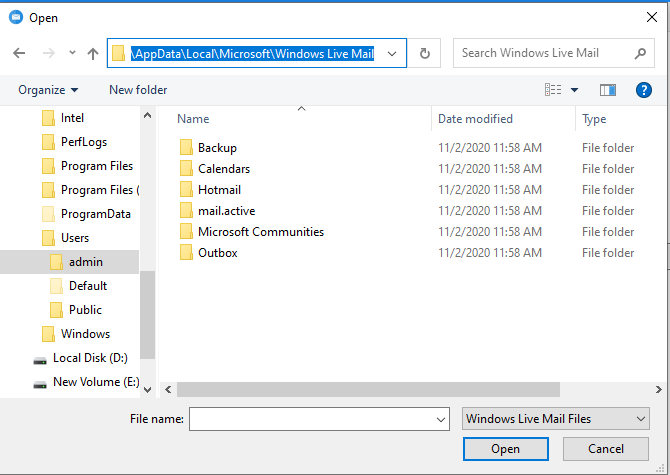 Keep in Mind- By Default, AppData is hidden. You must unhide the file location.
On the other hand, if you are running WLM into XP, chances are your emails are at this location- C:\Documents and Settings\UserName\Local Settings\Application Data\Microsoft\Windows Live Mail.
Why to Migrate Windows Live Mail Account ? – A Generic User Query
Due to the ceased email services of Windows Live Mail, users have been now trying to move their correspondences to more advanced email systems. Also, if you do a bit of searching and testing then you will find that there are numerous email application alternatives on the web which can suit your professional requirements.
User Query-
Now that WLM is no longer available, I need to migrate Windows Live Mail Account messages. Currently, WLM is installed on an XP Home machine whereas the other email application where I need to migrate emails is on a Windows 10 machine. There are about 1500+ email messages in the WLM email account. I have found somewhere that explains a manual way to migrate emails from Windows Live Mail account. You can just drag and drop the messages to the desired email platform. But then they don't give accurate results and also corrupts data. How can I migrate Windows Live Mail account (hundreds of messages in numerous Storage folders)? Thanks in advance!
Choose the Right Tool to Migrate Emails from Windows Live Mail Account
The manual approaches to migrate Windows Live Mail account comprises over a dozen steps! We understand that migrating dozens of Windows Live Mail email messages is a pain in the neck, as it takes ages doing manually. Also, the more actions you are performing with the standard method, chances are high that error and data corruption will come along the way.
Windows Live Mail Migrator is the finest third-party software that can securely relocate your WLM emails, attachments to a new environment. If you are not that much tech-freak and you want to avoid the manual method's limitations then, automated solution is the right decision.
Discover the quickest way to migrate Windows Live Mail account with this automated solution. Yes, no more hassles now!  The tool can automatically convert the configured Windows Live Mail mailbox data.
Snap on the green Download button given below to install the software on your machine

The software to migrate Windows Live Mail account will parse all folders of the WLM account and lists the same in the toolkit. Thereafter, the user can choose a desired saving format from the available options.
Start saving and within few seconds you will see that the Windows Live Mail account has migrated to the chosen email platform or file format.
Highlights about Automated Solution
It does a lightning-quick migration that's 10 times quicker than the standard solutions.
Batch Migrate Windows Live Mail account including all folders and sub-folders too.
Keeps the email attachments and other email attributes safe during the migration.
Let's users pick a date interval for migrating Windows Live Mail account.
Final Say
When you migrate to a new email platform, you often can't make the switch overnight. But, the suggested solution can automate and simplify your move. The right software can keep you on schedule and budget. Just make a complete survey of everything in your WLM email ecosystem and effortlessly migrate Windows Live Mail account.
If you have any queries regarding the software, don't hesitate to contact to our technical support team.