Email Migration
How to Migrate Entire Google Account to a New One ? Complete Guide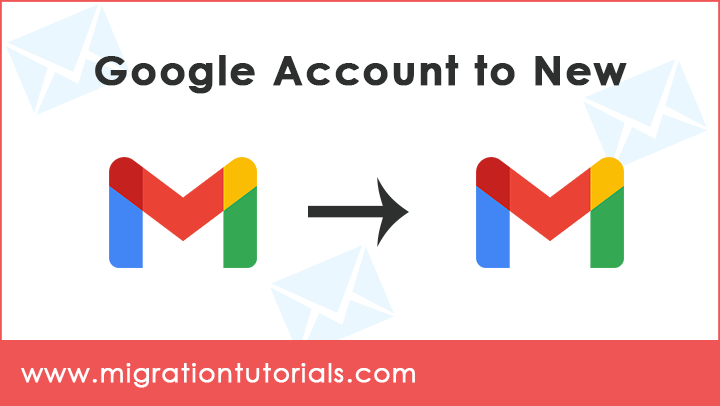 There are a few users who want to know how to migrate entire Google account to a new one and are looking for solutions for it. It is well known that when you create an account on Google, it not only provides the facility of sending or receiving emails, but also to store data like calendars, contacts, docs, etc. This data is also crucial to users as the contacts may have important information such as a person's address, company name, email address, etc. Calendars have important days marked for meetings, presentations for work purposes or for personal use as well. Just as docs have important documents related to office or school or college work.
All of the items mentioned above are what will be migrated if users want to transfer data from one Google account to another. Now, there may be issues while migrating these items that we will be explaining along with the methods to perform the migration. There are chances that users might lose their data while doing so. Now, let's move forward to the migration of each of the item present in the Google mailbox.
Migrating Emails
Migrating emails from one account to another can sometimes be a little bit of difficult. In fact, some methods corrupt or modify or lose the data that is being migrated but if you have a backup of all the emails in your mailbox, there will never be a problem of losing these emails. To migrate the emails while migrating entire Google account to another, users can use Google takeout, utility provided by Google to help users move their emails from one account to another. But it may not be able to transfer data from one Google account to another in bulk as it has a size limitations and sometimes, modifies or loses the data.
To avoid the loss, users can move emails in bulk and take a back as there are no issues of file size limitation. You can simply just choose the files and take a backup of all the emails so that while migrating your mailbox, you're sure that even if some data goes missing, the mails are still with you in the backup you took.
Migrating Contacts
Well, we all know how important the address book in our Gmail account is. Details like last name, company, emails address, home address, etc of our contacts are stored in the address book. While Users want to know how to migrate their entire Google account to another, they also want full safety and security. Contacts can be downloaded in order to take a backup for safety in VCF format or as vCard. After taking the backup, users can start migrating these files to the other account and in case, there is any issue, users will always have a backup of their address book download.
Migrating Calendars
The mailbox in Gmail provides various features to store our important data, calendar is one of them. Most of the users mark dates for important events like office meetings, birthdays, anniversaries, etc. Nobody wants to lose this data because it is already set to remind them of what happened on that particular date. If someone loses this while migrating data from one Google account to another, imagine how hard it would be for users to remark the calendar which is why there should not be even 1% of risk of losing your data.
Users can first take a backup of the calendar and start migrating as the backup of the files can give users a satisfaction that their data is not going anywhere if by any chance the migration process fails. The files will be exported in.ics format. Once you have taken the backup, start the process for migrating entire Google account to another by going to settings and choose calendar settings from there. Now go to calendars and create a new one and name it as per your choice. Click create calendar and hit import. After that, choose the .ical file and upload it in the empty Google calendar you created as its destination. Although, there may be a chance of losing data while migrating your entire Google account to another, but you do not have to worry as you will already have a backup for the same.
Migrating Documents
In the Documents of the Google Apps, the users have various documents stored which hold importance. These doc files could be related to business presentations, meetings, sensitive information, etc. It is necessary to keep these files safe from any corruption or modification when you are performing the process for migrating the entire Google account to another. There is a way to do so while migrating the doc files from one account to another. Users have the option of making a backup copy of these documents to keep these files safe.
The migrating methods to migrate data from Google account to another are not 100% working and do not provide safety from any corruption or data loss. All these items from your mailbox such as Emails, Contacts, Calendars, and Documents store crucial data which is why it is important for the user to always have a backup to avoid any risk. There are tools that can help you do so to keep you satisfied and your data secure. Gmail Backup and Google Apps Backup tools are the best third-party tools that can help you take backup of your data while migrating your entire account to another.
Final Say
The method to know how to migrating entire Google account to another are manual which have a few limitations. Keeping the files safe in your local computer as backup is beneficial for the user which is why we suggest users to use the tools mentioned. If there is any more information that can be helpful for the users, let us know. The aim was to target the migration and limitations of the methods to keep the users in the loop of how migration process works.