Email
How to Migrate Thunderbird Account Emails, Contacts, and Calendars ?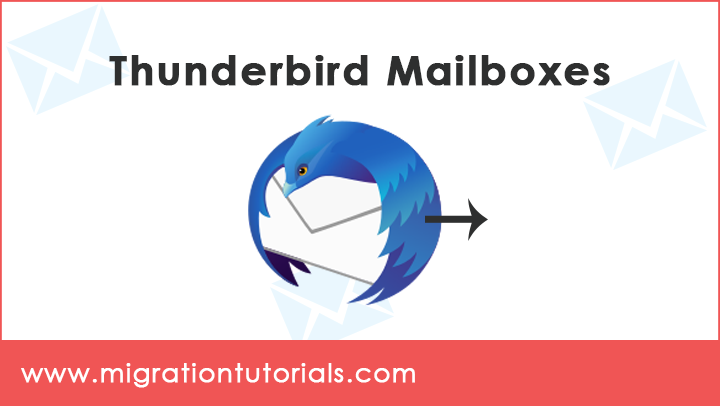 Knowing the proper and effective way to migrate Thunderbird emails is the concern of many. If you also want clear information on Thunderbird profile migration, please stay on this page.
The Mozilla Thunderbird open source email client is a desktop application. It has thousands of active users every day. However, many times users need to migrate Thunderbird account due to good specific reasons.
Leaving the reasons, if talking about the process, only two methods can come in handy to migrate emails from Thunderbird account – manual and automatic.
In the next section, let's first look at a better solution for Thunderbird account migration.
Two Evident Methods to Migrate Thunderbird Account – All You Need To Know      
Here, we are going to give you insights into the manual and automatic processes. You can choose by reading the information. So, here we go.
Why is the Manual Method not a fair choice ?
As we all know, Thunderbird is a free email client that people use for both personal and professional work. It has a consistent and straightforward interface. It's sporadic anyone that anyone finds complexities working with it. It stores your emails, contacts, and other data in a separate directory rather than installation. If you locate your Thunderbird profile directory on your computer, then you can copy-paste emails from it to a new location or in a CD or USB. But this strategy doesn't work well for all your requirements. It has limitations such as: –
Technical knowledge requires.
Users have time and patience.
Copy and paste may take a long time.
Email properties may get altered.
Attachments, along with emails, are not migrated and many others.
These all can piss you off if you plan to migrate Thunderbird account with a manual trick. Now, let's learn about the professional and automatic methods.
Enjoy The Peak Performance of Third-Party Software
If you want to migrate Thunderbird instantly and safely, nothing works better than trusted third-party software that is tested by experts. Also, has positive feedback from its users. On that basis, the only software to rank number one is Thunderbird Migrator. The reliable and powerful software for migrating emails, contacts, and calendars from Thunderbird accounts with attachments. It gives you the freedom to migrate Thunderbird profile emails in bulk with one click. Also, users can choose Thunderbird selective emails for migration.

Learn About the One-Stop Method to Migrate Thunderbird Account Mailbox
We have given you insights into both the manual and third-party solution for Thunderbird profile migration. Now, we are continuing the process with an automatic solution. First of all, you have to download the software on your system.
It gets launched in a few minutes. Run the application you will see multiple options to migrate Thunderbird account email, contacts, and calendars.
Make a choice and choose from email, contact, and calendars. After that, if your Thunderbird profile runs on the system, check the configured Thunderbird mailbox option. It automatically analyses the folder and starts migration.
If you want to manually select Thunderbird emails, you can tap on the Select Files and Select Folder button.
The software gives you multiple saving options for migrating Thunderbird account in standard file format, webmail, email clients, and more. Let's inform you about the complete list.
Multiple Savings Option Available for Thunderbird account migration 
File types: Users can migrate Thunderbird account to a series of file formats, such as PST, MSG, EML, EMLX, MBOX, PDF, HTML, MHT, XPS, RTF, DOC, etc.
Email client: This tool also allows Thunderbird profile migration to other email clients, such as Thunderbird, Windows Live Mail, Zimbra, Lotus Notes, etc.
Cloud-based email services: Besides, migrate emails from Thunderbird mailboxes to web-based email accounts such as Gmail, Yahoo, G Suite, Office 365 (now Microsoft 365), Outlook.com, Exchange Server, hosted Exchange Server, IMAP, and many more.
The Key Benefits
There is no need to install any supporting applications because the software is independent.
It can perform Thunderbird account migration in bulk with folder structure intact.
Easily and quickly migrate emails, calendars, and contacts from Thunderbird with attachments.
Maintain the continuity of email attributes without data loss, fast migration, and easy execution.
The Conclusion         
The above guide highlights accurate and advanced software to migrate Thunderbird account. It ensures the task is one with zero errors and complete precision. It gives you various saving options for Thunderbird profile migration.